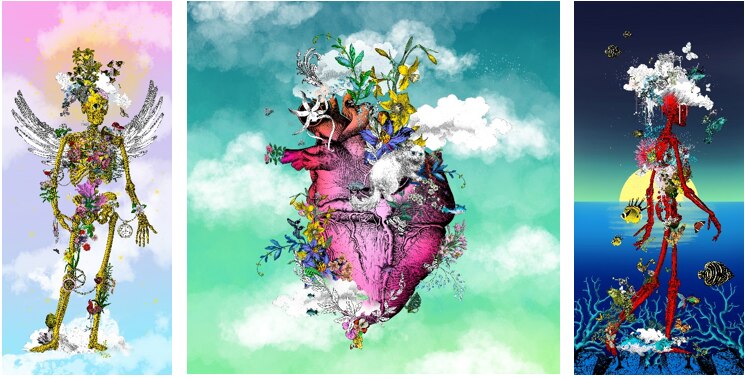 Kristjana S. Williams, Head in the Clouds, BENEVOLENT X HAPPY CONTEMPLATING SKELETON, EXCITED X ADVENTUROUS HEART OF NATURE, LIKE A FISH OUT OF WATER X LUSTFUL DRIFTING SKELETON, courtesy of the artist and VIVE Arts
VIVE Arts is delighted to partner with London-based Icelandic artist Kristjana S. Williams on her first NFT project, 'Head in the Clouds', which will launch on 7 December 2022.
'Head in Clouds' will be on display at the artist's pop-up store on London's Carnaby Street (open now until Spring 2023) and will be available to purchase globally through the VIVE Arts platform. It will feature three NFT collections, with unique editions generated from three core artworks, 'Heart of Nature', 'Contemplating Skeleton' and 'Drifting Skeleton'.
Kristjana S. Williams is a multidisciplinary artist, whose work spans hand and laser cut collage, illustration, animation and digital design. Her artworks draw inspiration from Victorian engravings and the natural world, and involves physically and digitally layering exotic botanicals and vibrant animals to build fantastical, dream-like worlds. VIVE Arts aims to forge ongoing relationships with artists to enable them to expand and evolve their practice over time, experimenting with new digital tools and mediums. This is the second collaboration between VIVE Arts and Kristjana S. Williams, following their work together on 'A Curious Game of Croquet', a VR experience that was presented as part of the Victoria & Albert Museum's 2021 blockbuster exhibition Alice: Curiouser and Curiouser, bringing the artist's distinctive vision into virtual reality for the first time.
Williams envisions 'Head in the Clouds' as an imaginative, expressive digital art project inspired by the figurative idea of having your 'head in the clouds' and the heightened emotions associated with the act of travelling, from joy and anticipation to impatience and nervous excitement. 'Heart of Nature', 'Contemplating Skeleton' and 'Drifting Skeleton' reflect how these emotions are deeply felt, right down to the bone and with a pounding heart, as travelling opens up the mind and body to new possibilities and expands appreciation of the natural world. These emotions and sensations are represented through different colours and animations, which add a beautiful and surreal layer of moving imagery to the core artworks, from floating clouds, flying birds and butterflies, to unfurling flowers, shoots and mushrooms.

The project introduces the element of chance into Williams' intricate, deliberate artworks, as each unique NFT will be algorithmically generated through random selection-based rules devised by the artist. The rules are visually represented by different wheels, designed by Williams. The collector is invited to participate in Williams' generative art experience: the collector will spin the wheels to randomly generate a unique NFT featuring a particular colour and emotion. The NFT can then be minted on the VIVE Arts NFT platform. In total, there will be 64 variations of 'Heart of Nature' and 144 variations of each of the two Skeleton works.
Williams has used digital tools throughout her life and career, beginning with building her own logic circuit boards for a pirate radio station, to developing digital techniques and digitally layered collages, designs and illustrations, both during her work in fashion at her London-based shop 'Beyond the Valley' and at then at her eponymous studio in Chiswick, which she opened in 2012. She has transformed her artwork into immersive, interactive experiences in projects such as 'Interactive Print Journey', for the V&A's British Galleries in 2011, 'Audio Scape Print Journey', a collaboration with Sennheiser in 2013 and 'A Curious Game of Croquet' in 2021 with the V&A and VIVE Arts. 'Head in the Clouds' is a continuation of this creative journey and a natural extension of William's practice, which is experimental and constantly evolving to work with new formats.
'Heart of Nature' will be the first NFT collection, released on 7 December with the following two collections dropping later in January 2023 and February 2023. The NFT editions will be priced between 0.5ETH and 0.2 ETH and will be available to purchase in cryptocurrency through the VIVE Arts NFT platform. Visitors will be able to view the artworks in Williams' pop-up store on London's vibrant Carnaby Street, alongside her range of 3D original artworks, Limited Edition prints and interior products. This will coincide with other exciting projects this November, as Williams will also unveil a new public artwork, celebrating Carnaby Street's 25th anniversary.

Kristjana S. Williams, 'Head in In the Clouds' will be available on VIVE Arts NFT Platform.

Kristjana S. Williams' pop-up store in Carnaby Street is located at 56B Carnaby Street, London W1F 9QF and will be open every day (11am-7pm Mon-Sat and 12-6pm on Sundays) from now until to spring 2023.