In partnership with the Mucha Foundation, VIVE Arts launches Timeless Mucha, a limited edition NFT collection of iconic artworks by Alphonse Mucha (1860 - 1939). On this occasion, Marcus Mucha, great-grandson of Alphonse Mucha and Executive Director of the Mucha Foundation, talks to us about preserving and promoting the artistic heritage of his great-grandfather.
Alphonse Mucha developed a very personal style, 'le style Mucha', which is world-renowned and instantly recognizable. It has been inspiring artists working in a wide range of mediums, from graphic art to fashion and interior design. According to you, what is it that makes 'le style Mucha' so timeless?
My great-grandfather felt that art was an essential benefit for all humanity. He said "the purpose of my work was to build, to create bridges; because we must all nurture our hope that humanity will draw together". This vision permeates his work and taps into something universal that I think we all feel deep down: a desire to connect and draw closer together with other people. In my opinion, it's the combination of the striking visual style of his work, and the hopeful philosophy that underpins it, that make Mucha's work resonate so much even today.
Could you tell us a little about the Mucha Family Collection and how it was growing up with the influence of your great-grandfather in the family?
My father had to leave Czechoslovakia in the 1960s as he wasn't permitted to attend university there, and he went to England. There he met my mother and, later, my siblings and I were born. So while I was aware of our family's artistic heritage, and Alphonse's incredible achievement, there was no anticipation that we would ever be able to move back to Prague. All that changed in 1989 following the fall of the Berlin Wall, and in 1992 my father and my grandmother established the Mucha Foundation to help protect the family collection and preserve Alphonse's artistic legacy – work which I am proud to be continuing today.

The Arts: Music, Poetry, Painting, Dance, 1898
Mucha was a true visionary. He wanted art to permeate all facets of daily life and aimed to make art more accessible to a wider public. What do you think would be his take on NFTs and how they are shaking up the art world?
Not many people know that Alphonse Mucha was an innovator at heart. As well as creating Art Nouveau, the world's first truly global design movement, he lived his life at the intersection of art and technology and hosted the Lumiere brothers' earliest experiments in cinematography in his Paris studio. In later life, he even applied for a patent for a machine involving magic lanterns and picture projecting apparatus "that relates particularly to means for illuminating rooms and applying changeable mural decorations to the walls of thereof". To me, that feels like a precursor to the kinds of effects that can be achieved with VR artworks. He was always interested in new artistic forms, and so I think the possibilities of how today's technologies can be applied to artistic expression would have fascinated him.
How did the exhibition Mucha to Manga – The Magic of Line in Taipei, organised by the Mucha Foundation, lead to Timeless Mucha, a collection of NFTs by Alphonse Mucha?
We worked with VIVE Arts a couple of years ago to commission a new original VR artwork that was created by award-winning digital studio Nexus Studios, and we had a great experience with the visionary team at VIVE Arts, whose passion for the intersection of art and technology was evident from our first conversations. This artwork, Slav Epic VR, is being displayed at the upcoming exhibition in Taipei, an exhibition which VIVE Arts is sponsoring, and so as we explored the idea of a series of NFTs that tied in with the exhibition, extending our cooperation with VIVE Arts made a lot of sense.
Timeless Mucha will culminate in the sale of Slav Epic VR. Viewing the twenty paintings of the Slav Epic is an immersive experience due to the monumental size of the canvases. Did you produce Slav Epic VR to emphasize the immersive aspect of the Slav Epic, and to further enhance its agency?
When we commissioned Slav Epic VR, the original canvases for the Slav Epic were not on display to the public. But the Slav Epic is the crowning masterpiece of Mucha's life and work, and as custodians of Mucha's artistic heritage it has always been a priority for us to find ways to share his vision with the public. Working with VIVE Arts and Nexus Studios, we particularly enjoyed the possibilities that VR technology presented to enable viewers to "step inside" the world of Mucha's imagination. And in doing so, we hope we were able to find an artistic expression of the excitement he felt at the Lumiere brothers' cinematographic inventions, which he saw as offering the possibility to "compose a picture where the movement was genuine and the frame fictitious".
Alphonse Mucha gave the Slav Epic to the City of Prague as a gift in 1928, on the condition that it would build a dedicated space for it. Can you tell us about current plans for the Slav Epic, and what we can look forward to?
The Slav Epic recently went back on display in Moravský Krumlov, the town in Moravia, Czech Republic, which helped keep it safe through the darker days of the twentieth century. It will be on display there until the opening of a new purpose-built space in the center of Prague that is being designed for the Slav Epic by the acclaimed and visionary architect Thomas Heatherwick. That space is scheduled to open in 2026 and will, we hope, create an equivalent in Prague to what the Van Gogh Museum is to Amsterdam.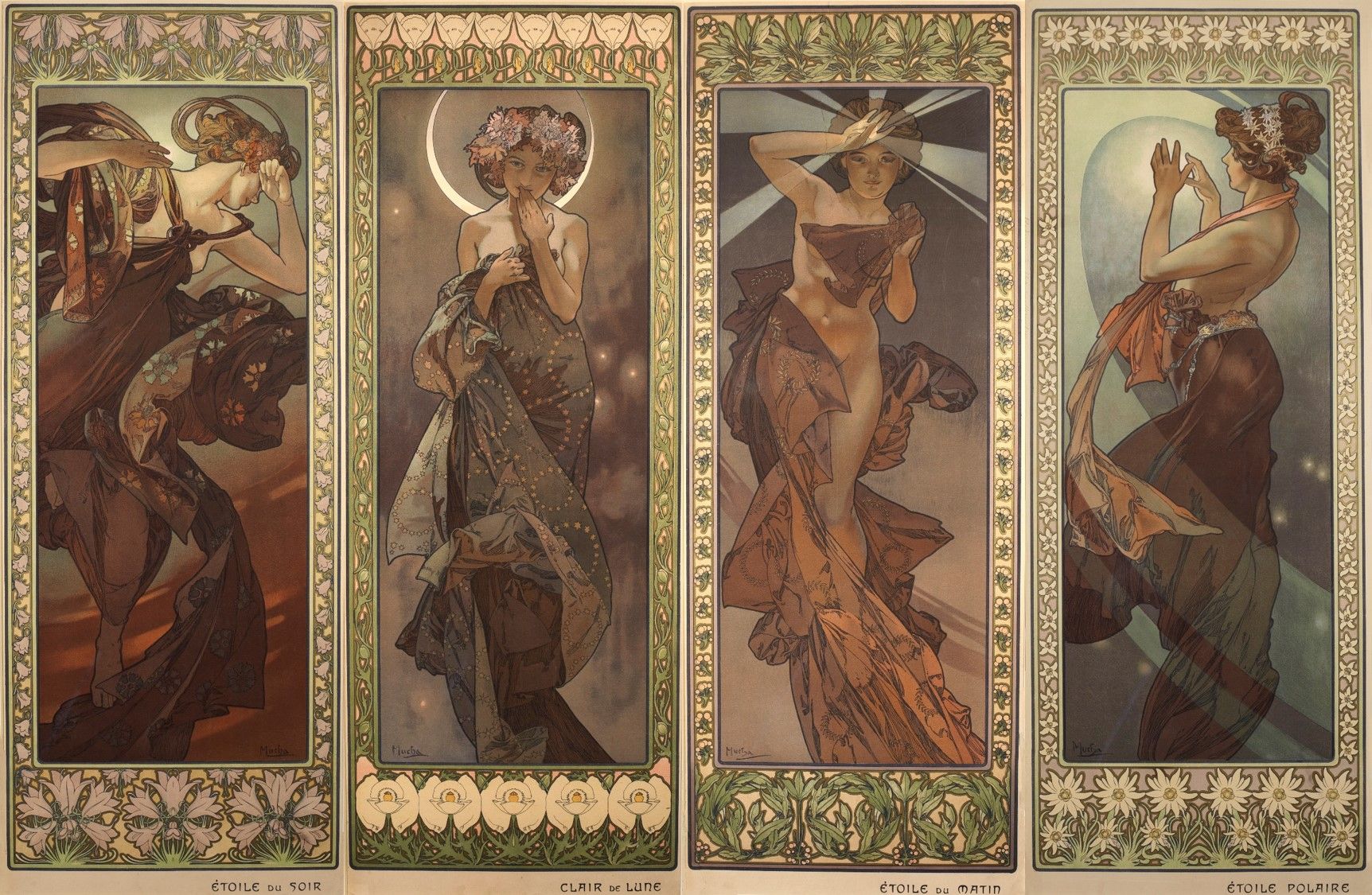 The Moon and the Stars, 1902
The inaugural sale of 'Timeless Mucha', organised in partnership with the Mucha Foundation, drops on Friday 17 December at 2am GMT. It includes editions of 2, 10 and 30 of some of Alphonse Mucha's best loved images: 'La Dame aux Camélias', 'Rêverie' and the series of decorative panels 'The Arts': 'Painting', 'Poetry', 'Dance' and 'Music'. The sale coincides with the opening of the exhibition 'Mucha to Manga – The Magic of the Line', organised by the Mucha Foundation in Taipei. NFT drops will take place throughout the duration of the exhibition, culminating in the sale of 'Slav Epic VR' in April 2022 to commemorate the 110th anniversary of the completion of the first three paintings of Mucha's monumental series the 'Slav Epic' in 1912.